I need help! I've come to a roadblock. Usually I'm okay with making decisions regarding my home, but not with this. Tell me what you think...
I have this armoire that I just moved from my bedroom...
into my living room...
(note the furniture pads are still on the feet of it) I think I like it a lot better than what
was
there- just a desk with an antique chest under it...
I think I want to PAINT the armoire. Its stained a dark cherry color that matches my sleigh bed and one nightstand that came with my husband when we got married. =) Not a huge fan-of the dark cherry that is. I think everything looks great painted, but I'm not sure if it would ruin this. I'm just not a fan of this color wood. And if I did paint it I'm not sure what color. Maybe a creamy white and then distress the edges so it looks more antiqued? Or maybe like a robins egg blue like the one below (which is gorgeous!), or a creamy white and distress it a bit? I'm so lost.
Here are some inspiration pieces that I love...
This is not quite an armoire but with the wooden bling bling on top, it totally pulls off the look. So creative and unique.
ohhh pretty....
From the office of Viv from ish and chi blog
I love built-ins that look like furniture, like this green painted kitchen "armoire", or hutch I guess.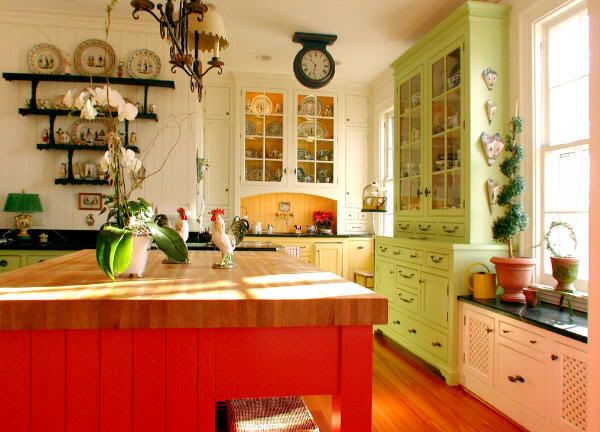 I WANT this one in my bedroom... (even tho it will take up about half of it)
I came across this 19th century one... It looks like it came off the Pirates of Caribbean boat. =)
Craaazy, but I kinda like it.
The chicken wire on this antiqued armoire gives it an old country look, like it was your grandmas. =)
I loove this white armoire/ china cabinet with a blue background.