I have a confession, I splurged. You know how in magazines they always have the "Splurge" and "Steal" versions of something. I rarely even
look
at the splurge item. I'm all about a steal! When I was in San Francisco I was feelin frisky and fell in love with this necklace from anthropologie so I bought it! I can't wait to wear it. Its quite a statement. Compared to all their other necklaces it was actually quite a STEAL! So I feel good about it.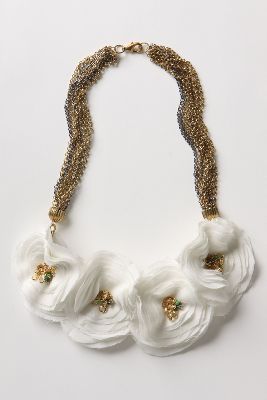 Here are some other great fabric flower necklaces to peek your interest:
This yellow necklace is from ShopRuche.com...
The following necklace is from
White Owl
on etsy, she has great stuff!